(Source: DailyCourier):  Max Efrein
$4.32 increase per $100,000 property valuation
Yavapai County residents will be seeing their property taxes go up by $4.32 per $100,000 property valuation.
This is a result of Yavapai County Flood Control District's overall tax levy being increased by $1 million from $4.092 million to $5.092 million.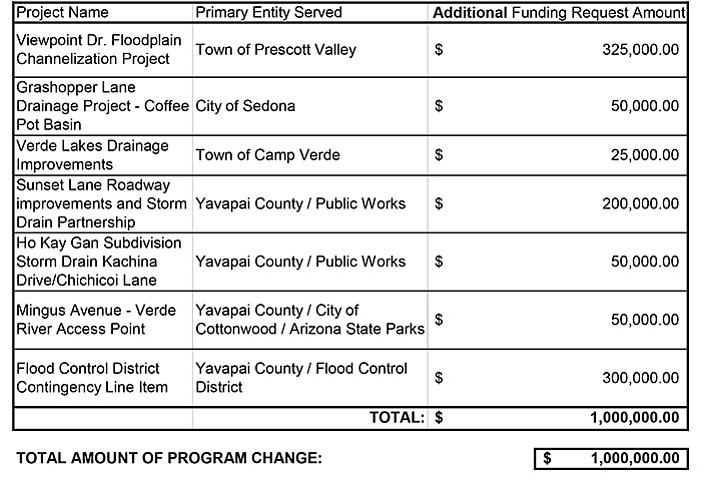 The Yavapai County Board of Supervisors unanimously approved this decision during its regular meeting on Wednesday, Aug. 2.
"Even though nobody likes raising taxes and everybody thinks they should go down, including myself, there is a safety factor to the Constitution of the United States," board chairman Thomas Thurman said. "Part of that is in flood control and keeping our communities safe from floods."
About three years ago, the flood control district's levy was reduced by $2 million. That was done in part to raise the county's overall general fund tax rate that year without impacting the average taxpayer's wallet, said Dan Cherry, the flood control district's director.
"Since that time, the district has kind of been spending down some of its reserves that it had in the bank," Cherry said. "We've reached the point where I was either going to have to decrease our overall budget or ask for a little replenishment via a tax levy increase to maintain what we've been at for the last few years."
To make his intentions clear, Cherry provided the board with a list of projects that the additional $1 million will be used for (see accompanying chart).
One use will be adding $300,000 to the district's contingency fund, which is primarily reserved for response to major incidents such as the flooding that has recently occurred in the county due to extreme weather.
"We're actually going to be using some of that to do some seeding on a portion of the Goodwin Fire burn area that's been affecting downstream properties such as Mayer and Spring Valley," Cherry said.