(Source: PhoenixBusinessJournal) By Angela Gonzales
Arizona State University is getting ready to develop seven acres north of the Phoenix Biomedical Campus in downtown Phoenix.
As part of the process, ASU leadership is seeking community input on what the vision of the development should be.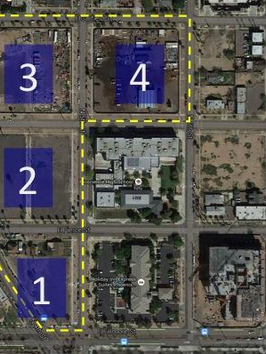 The vacant land is north of the 30-acre Phoenix Biomedical Campus, adjacent to the Phoenix Bioscience High School.
As part of an agreement with the city of Phoenix, ASU needs to develop 1.5 million square feet of bioscience and health projects, including parking, said Rick Naimark, associate vice president for program development planning at ASU.
The first building needs to be built by the end of 2019, he said.
A visioning session was scheduled for June 20 at Phoenix Bioscience High School, 512 E. Pierce St.
Research is becoming a bigger force within ASU, with $518 million in research funding in 2016 to grow to $815 million by 2025.
That will create a need for 475,000 square feet of research buildings, he said.
ASU won't necessarily occupy all 1.5 million square feet downtown, and most likely will spread its research across its other campuses in the Phoenix metro area, he said.
The public university recently leased space in the Translational Genomics Research Institute headquarters on the Phoenix Biomedical Campus, taking 18,000 square feet vacated by University of Arizona when it opened its research building on that campus.
Two years ago, Phoenix agreed to lease the seven acres north of the Phoenix Biomedical Campus to ASU, with the potential to work in partnership with NantWorks LLC, owned by Dr. Patrick Soon-Shiong, the world's richest doctor.
However, an agreement never was forged with Soon-Shiong, and the two organizations are not in negotiations, Naimark said.